My latest millinery creation was made with mostly thrifted and repurposed materials. I did buy the ribbon decorations, but all said and done I think this hat cost me about $25.
I started with my first attempt at a large bergere.
The straw had a previous life as another hat, which I thrifted along with its black twin. The new hat was made hurriedly before an event, and as a result I ran out of straw braid before I could make the raised crown. In true Tim Gunn style, I made it work by covering a buckram circle with some satin to extend the brim enough to add the last bit of straw. It faked the look well enough for that event, it was time to become something that wasn't an oopsie.
The underside, showing the tear-away stabilizer I used for the brim template. If I'd made it a smaller diameter, the hat would probably live on as a bergere.
I removed the buckram bit and was left with a big straw donut.
I had this straw cowboy hat lying around from a Halloween party a few years ago.
I steamed it to within an inch of its life and reblocked it using kitchen bowls.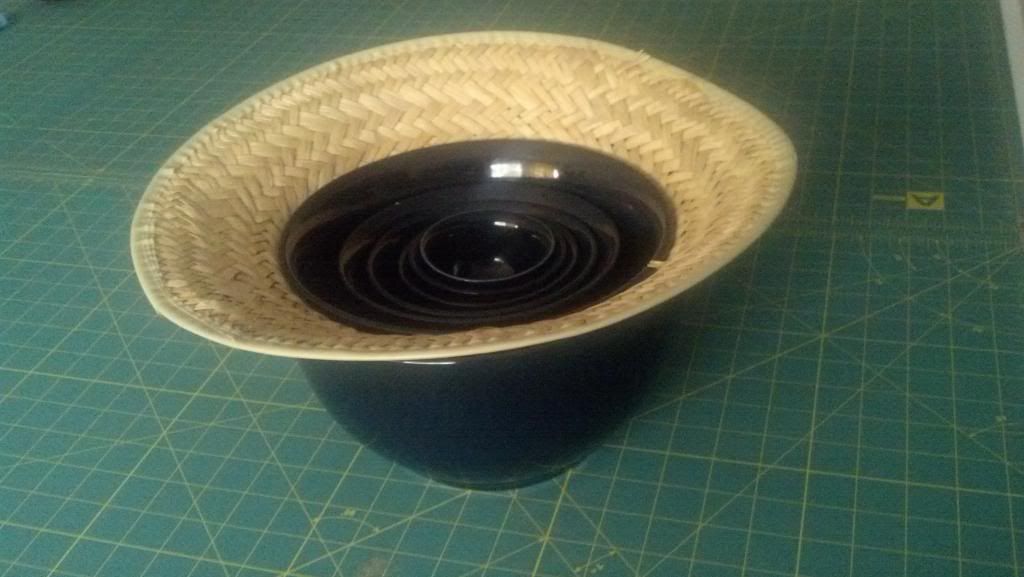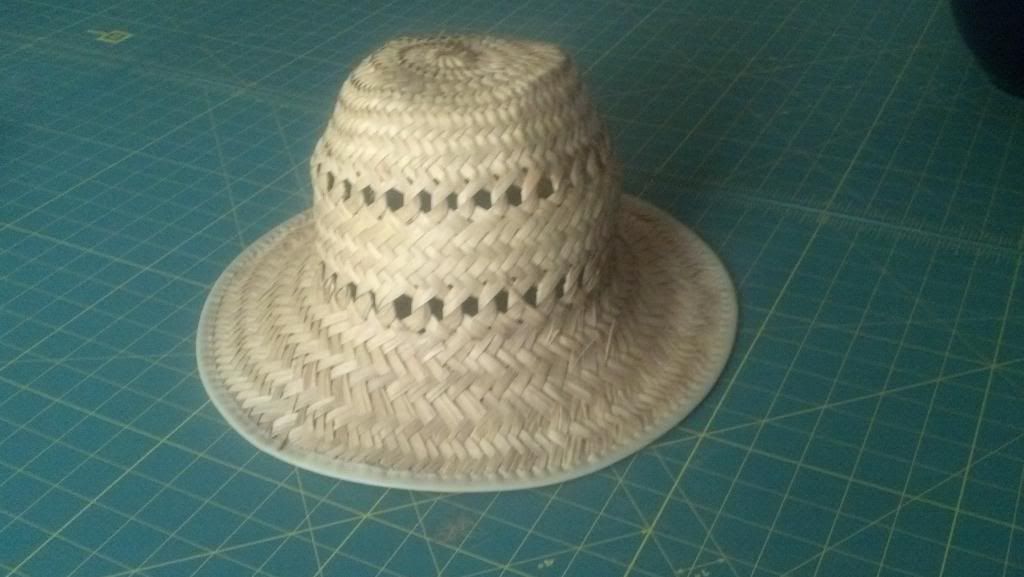 I used the buckram I cut away as a template and marked how much of the reblocked hat's brim to cut away, leaving me with a new crown. Meanwhile, I got out two thrifted window valances. One is an antique gold silk dupioni and the other is an embroidered organza.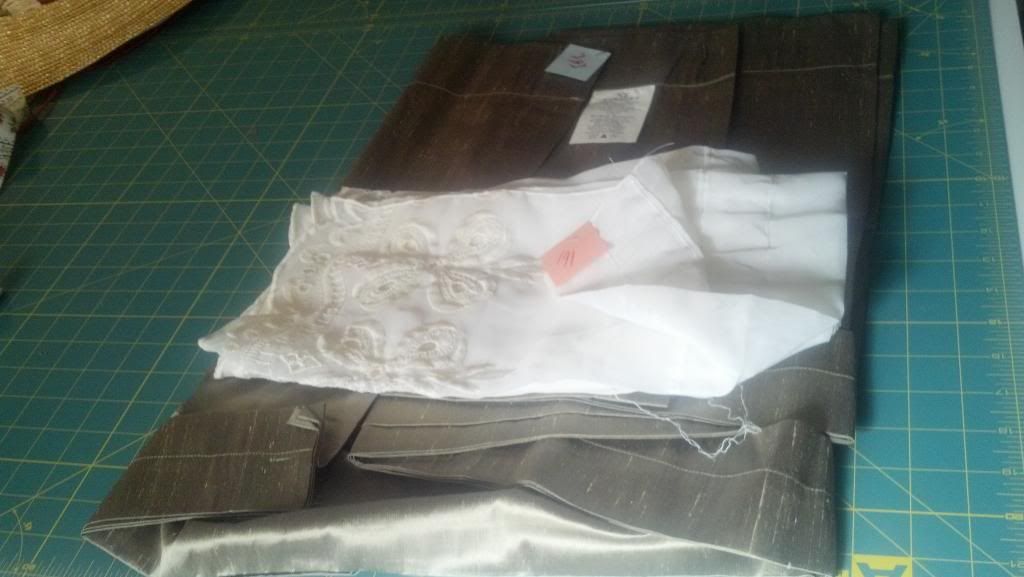 From the silk, I cut a 20" circle to cover the new crown, as well as a wide strip to cover the brim. I added some millinery wire to the edge after I sewed on the silk, then basted the crown on by hand.
I pinned and pleated the silk, covering the stabilized side of the brim and leaving the excess to pad out the crown.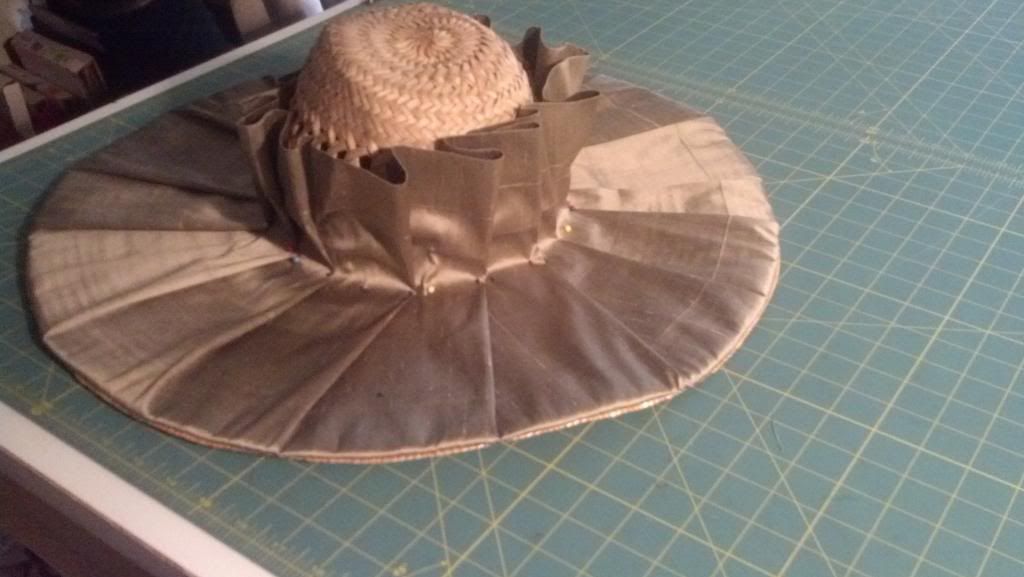 I basted that down, then gathered the organza valance and pinned it in place. It was just shy of being the perfect size, but close enough for what I needed.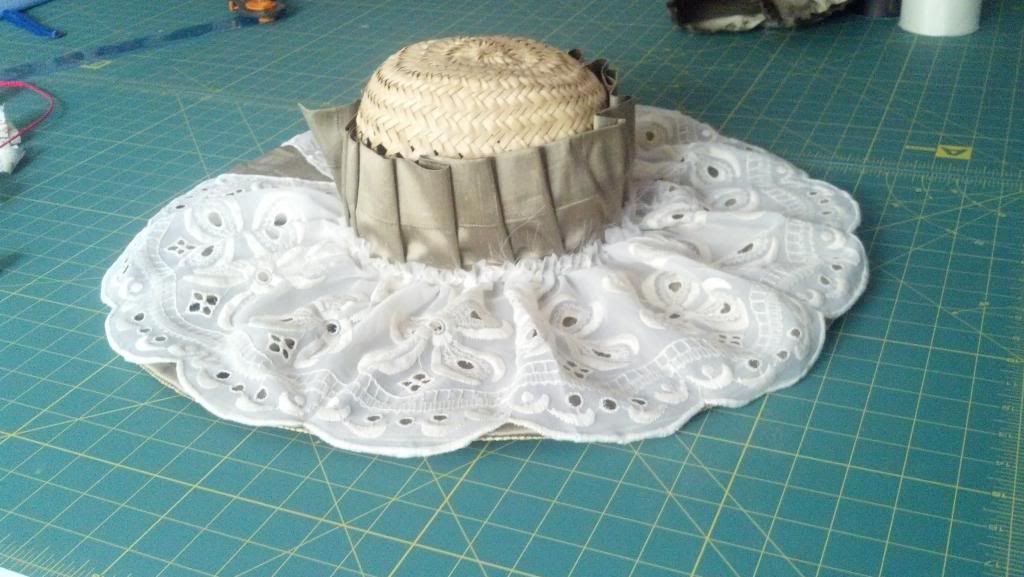 Next, I gathered the edge of the circle of silk and covered the crown.
Next it was time to play with ribbon! I used mostly the wired variety, since fashion plates of the era show some pretty stiff ribbon decorations with tons of body. I placed lots and lots of loops until it looked like that side of the hat had exploded (or, as my hubby put it, "..vomited ribbon." I added a band or red ribbon to cover the seam between the crown cover the the organza, then turned up one edge and secured it with ribbon. Belive it or not, I tried adding an ostrich plume too, but I just couldn't get it to work out right. No big deal, I'm pretty happy with how it came out.